Winter sometimes has a few tricks up its sleeve that can affect your travel. Here are some important things to know before you head out so you don't have to wait as long at stops when the weather affects our services.
Check RTC Notices regularly!
We issue an RTC Notice as soon as we know that the weather or an incident will disrupt the entire network. Notices are posted alongside the online schedule for all routes and are shared on the following tools:
On-board displays
Information displays at stops and in shelters
Twitter (twitter.com/rtcquebec)
Facebook (facebook.com/rtcqc)
RTC Notice Content
Updated by the passenger information team as soon as the situation changes
Detoured routes
Cancelled departures (for less-frequent routes)
Cancelled buses
Average wait times or delays
Things to keep in mind when looking up real-time bus schedules
Routes to Watch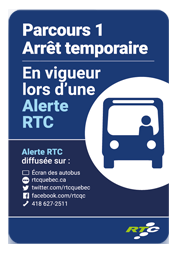 Any route can be altered if road conditions become difficult. However, buses that travel on steep roads or in windy areas are more likely to be diverted, such as:
Route 13, Rue de Valmont sector
Route 16, Chemin du Foulon
Route 51, Pionnières-de-Beauport Sector
Route 53, Côte Saint-Grégoire
Routes 82, 282, 372, and 572, Ave. du Lac-Saint-Charles between Delage and La Courte-Botte
Route 92, Route Tessier
Métrobus 807, Rue D'Aiguillon
Check the RTC Notices regularly to find out if your bus has been diverted.
Other Tips
When the road network is disrupted by rain, snow, hail, or heavy snow removal:
Leave yourself more time.
See if you can make the trip at a different time.
Look for the real-time wave icon on our tools to see if your bus is on its way.
You can track your bus in real time on the route map on the website and mobile app and check for cancelled stops. Real time is calculated based on distance. If a bus is stopped somewhere due to a red light or traffic, the time listed will stay the same.
Bundle up.
Snow Removal and Stop Accessibility
The RTC network includes over 4,500 stops that are maintained throughout the year. In periods of heavy snowfall, teams work day and night to clear the snow or ice as quickly as possible for as many customers as possible:
Snow is removed from sidewalk stop areas by the City of Quebec, usually within eight hours of the last snowfall.
Snow is removed from Parc-O-Bus as soon as 10 cm or more of snow has fallen. This usually takes 12 hours.
Bus shelters are shoveled and de-iced within eight days of the latest snowfall, in the following order:

Terminals
Old Quebec and the Old Port
Métrobus 800 and 801 - schedule being revised to include other accessible routes (11, 802, 803, 804, and 807)
Downtown
Suburbs
If there is ice or snow accumulation, it may not be possible to get on and off at some accessible stops.
Check STAC Notices regularly!
Notices are published as soon as we know that the weather will affect the service offered. STAC Notices are posted on the following information tools: