New
New!
New! General monthly pass available on RTC Nomade paiement
Purchase and activate fares anywhere, anytime with the RTC Nomade Payment app, the latest in our line of Nomade tools.
Buy fares directly on your smartphone without going anywhere—it's flexible and user friendly. You're ready to ride in a few easy clicks!
Features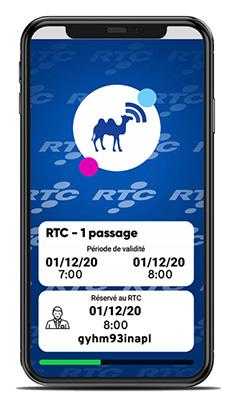 Buy fares on your smartphone with your credit card.
Activate your fare before starting your trip (Internet connection or data plan required).
Use your smartphone to show your ticket to the driver when you get on board (visual validation).
Manage your account securely.
View your recent transactions.
Accepted payment methods: Visa and MasterCard. 
Available free for Android and iOS.
Accessible for people with visual impairment or other disabilities.
Linked in the main menu of RTC's real-time Nomade app.
Intégration des tarifs réduits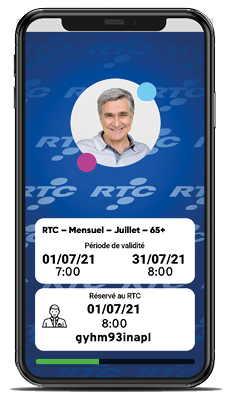 Depuis le 28 juin, tous les titres à tarifs réduits (avec photo) sont disponibles dans notre application RTC Nomade paiement. 
Les titres de transport à tarifs réduits sont disponibles pour les catégories suivantes de clients : 
•    14 - 18 ans*;
•    Étudiants + (19 ans et plus);
•    65 + (aînés de 65 ans et plus).
Voici les étapes à franchir afin de se procurer les titres à tarifs réduits:
Les clients doivent télécharger leur photo dans l'application et fournir les pièces justificatives demandées pour prouver leur statut.
Les documents soumis sont par la suite traités et approuvés par le Service à la clientèle du RTC. Un délai d'approbation des pièces est nécessaire avant que le client puisse acheter son titre à tarif réduit (maximum 72 heures). 
Le client reçoit une confirmation par courriel indiquant que ses pièces ont été approuvées.
Lors de l'approbation des pièces, les titres sont maintenant disponibles pour achat dans la boutique de l'application mobile. 
La photo soumise dans les pièces justificatives sera affichée sur le billet visuel, afin de confirmer l'identité du détenteur. 
* Il est à noter que le détenteur doit obligatoirement être âgé entre 14 et 18 ans pour se procurer les titres de cette catégorie. Si le détenteur a 13 ans ou moins, le parent ou le tuteur légal doit se présenter dans un centre de services ou d'information du RTC afin de fournir les autorisations légales nécessaires pour lui procurer un titre. 
STLévis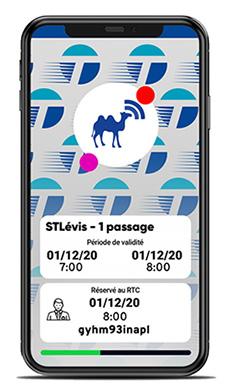 As of Monday, December 14, four STLévis fares have been available for purchase via the RTC Nomade paiement app:
1 ticket
4 tickets
8 tickets
12 tickets
These fares are not accepted for RTC routes.
To distinguish between RTC and STLévis fares, the transit authority name is included in the name of the fare.
Please note that the background colour for animated RTC fares changed on December 14. New RTC fares have a blue background with the RTC logo. STLévis fares have a light grey background with the STLévis logo. The Nomade camel appears at the centre of all fares.
How it works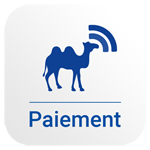 Download the app onto your smartphone.
Create an account.
Buy fares using your credit card.
Activate your fare before you get on board (animated ticket).
Show it to the driver when you get on board.
Frequently Asked Questions
Activation and validation
Achat de titres à tarifs réduits