What is STAC?
STAC offers paratransit service from accessible door to accessible door to people living with limitations that reduce their mobility.
Public transit means transportation service that meets the general needs of the clientele. Trips have to be appropriately scheduled and punctual for service to be effective and efficient.
STAC strives to respond to as many trip requests as possible and does its utmost to provide convenient service with minibuses, taxis, and adapted taxis. To use paratransit, you must be eligible for STAC services according to the Ministère des Transports du Québec's Paratransit Eligibility Policy.
STAC by number (2014)
219,943 hours of service
4,581,347 kilometers travelled
753,851 trips
8,918 active users
Note: These statistics include the activities of STAC vehicles and service providers.
Mission and Values
In keeping with the RTC's mission, STAC is dedicated to providing its clientele with high quality, reliable, punctual, and safe service in a pleasant and respectful atmosphere.
Users: Offer quality service that does not treat the user as a number, but as an individual that deserves to be heard and respected.
Respect: This value is essential and fundamental in dealing with colleagues, users, and partners. Respect means listening, being open, and paying attention when interacting with others.
Communication: Develop and help maintain open communication and dialogue between employees and managers at all levels and in all departments of our organization.
Team: A strong motivated team with common goals ensures the success if our organization. The key ingredients to create team spirit are dialogue and communication.
Service: Every single day, we work to provide courteous, quality service to our users and partners and between our departments and hierarchical levels.
Area served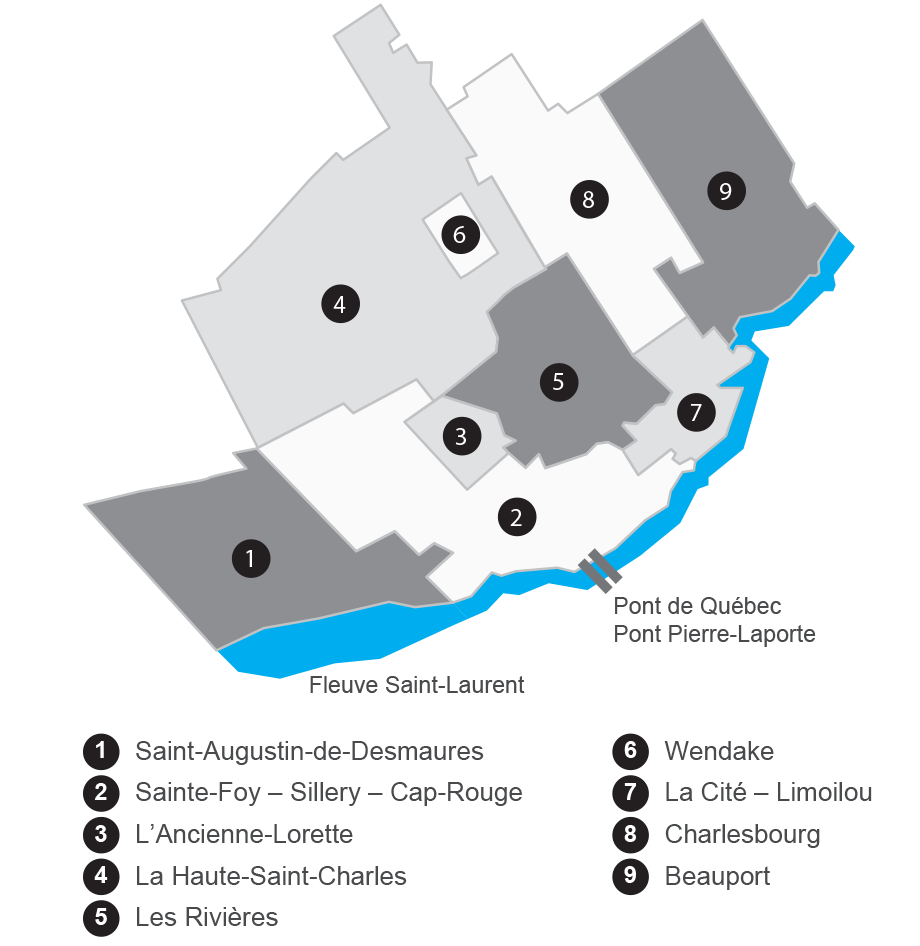 1976 to 1980
1976

The Quebec government gives Corporation Habitation Plus, which was already working with people with disabilities, the task of organizing and operating a paratransit service for people living in Quebec City and the surrounding area. The geographic area borders the municipality of Charlesbourg to the north, the river to the south, the municipality of Beauport to the east, and the city of Sainte-Foy to the west.

1979

Centre de réadaptation de Québec combines its activities with those of Corporation Habitation Plus to form Centre François-Charron. This new institution takes over paratransit along with its own institutional transportation service for clients who frequent the establishment.

1980

The Quebec government tasks Quebec public transportation bodies with organizing and operating a paratransit service in their respective areas. In Quebec City, Commission de transport de la Communauté urbaine de Québec (CTCUQ) takes on this responsibility.
1981 to 1989

1981

CTCUQ creates Transport Adapté du Québec Métro Inc. and contracts the organization to operate the paratransit service in its region. The new Transport Adapté du Québec Métro Inc. (TAQM) includes Centre François-Charron employees and accessible vehicles.

1982

An illegal strike is launched by the CSN labor union representing the drivers and telephone operators. TAQM is unable to come to an agreement with the union and innovates, entering into agreements with local taxi companies to provide service to its clients. Introducing taxi service helps to reduce the reservation deadline from 24 hours in advance to 8.

1983

TAQM develops and set up the first computerized reservation and client file processing system. However, planning and trip allocation is done manually. TAQM subcontracts minibus transportation services for people with acute disabilities for the first time. This is in addition to the service operated by TAQM under local government control.

1985

TAQM becomes a pioneer by participating in a project to test the first wheelchair-accessible taxi. This improves its service, which had been limited up to that point to specialized minibuses.

1989

TAQM innovates again by adding vehicles with larger capacities to its fleet. These are equipped with two access points, a manual ramp at the front door on the right side and a hydraulic lift at the back door.
1990 to 1999

1994

TAQM moves to its current location at 2750 boulevard Wilfrid-Hamel.

1998

Ministère des Transports du Québec calls for a pilot project to combine Centre François-Charron's institutional transportation services and those of Centre de Réadaptation en Déficience intellectuelle (CRDI) with the TAQM paratransit service.

1999

Despite promising results, the integration project is abandoned following the withdrawal of Centre François-Charron (IRDPQ). The various transport services are therefore repatriated to their respective institutions.
2000 to 2009

2002

TAQM fait l'acquisition du progiciel Accès de la firme GIRO. Pendant les deux ans qui suivent, les experts de la firme Giro, le chargé de projet de TAQM en collaboration avec le comité d'implantation du système, procéderont au développement et au calibrage du système selon la réalité du territoire de la Ville de Québec.

2003

À la suite du départ à la retraite du directeur général des 20 dernières années, monsieur Michel Wilson, monsieur Jacques Demers lui succède à titre de directeur général de TAQM.

2005

TAQM procède avec succès à l'implantation du système informatisé de gestion des transports Accès. Le traitement des plaintes et commentaires est transféré au service à la clientèle du RTC.

2006

Une première vague de travaux d'agrandissement des locaux administratifs et la rénovation complète du centre d'opération sont réalisés.

De plus, la performance du système informatisé de gestion des transports Accès, combiné au savoir-faire de l'équipe de répartition, permet d'intégrer au transport adapté une liste d'attente de 120 clients du CRDI. Cela représente, sur une base annuelle, plus de 45 000 déplacements supplémentaires.

2007

The organization's new image is created: TAQM becomes Service de transport adapté de la Capitale (STAC).

2008

Les conditions climatiques difficiles de l'hiver rendent certains lieux totalement inaccessibles et dangereux pour la sécurité de la clientèle, et ce, en raison des précipitations record de neige. D'autre part, une pénurie de main-d'œuvre dans l'industrie du taxi entraîne un nombre important de refus de transport. Malgré tout, le STAC prend toutes les mesures en son pouvoir afin de fournir un service exemplaire et de qualité. 

De plus, les nombreuses activités entourant le 400e anniversaire de la Ville de Québec font en sorte que le STAC enregistre une hausse record de 5 % de ses déplacements en deux mois, ce qui représente près de 6000 transports supplémentaires pendant l'été.

2009

Customer service is improved: the user guide is created, an online reservation system is introduced, and a call recording system is acquired.
2010 to present

2010

The entire transportation management process is computerized (Phase 2 of ACCES) with Infrastructures Transports Québec providing 75% of the funding. A new organizational structure with three new departments is established.

2011

STAC users can take advantage of a new service: metropolitan paratransit. This pilot project was initiated by Communauté métropolitaine de Québec (CMQ) and is financially supported by Ministère des Transports du Québec and CMQ.

2012

After 30 years of paratransit service in Quebec City, the time is right for the organization to choose a clear mission, a vision, and values that inspire all staff members.

2013

Depuis l'adoption de la dernière structure administrative en 2010, les besoins de l'organisation ont évolué. L'ajout de nouvelles responsabilités incombant au STAC et certaines remises en question ont amené la direction à proposer la mise en place d'une nouvelle structure afin de mieux répondre aux besoins de l'organisation et de la clientèle. Le STAC se dote donc d'une nouvelle direction du service à la clientèle, communications et relations avec les partenaires.

Quatre ans après sa dernière édition, le Guide à la clientèle fait peau neuve, tout comme le site Web du RTC et du STAC. À cet effet, un site Web transactionnel est lancé pour permettre aux clients de faire la plupart de leurs transactions par eux-mêmes, à leur rythme sur le Web, et ce, sans devoir appeler au centre de réservation.

Finalement, le STAC reçoit le prix Reconnaissance pour l'optimisation, remise par l'Association du transport urbain du Québec (ATUQ). Cette distinction reconnaît le succès qu'a connu l'entreprise dans la gestion de sa croissance soutenue des dernières années. 

2014

A new customer service, communications, and partner relations department is established.