What is Flexibus?
The Flexibus application allows you to travel within the areas where the RTC's new on-demand transportation service is now available. You can book trips for your local transportation needs or to connect to a frequent service network, all for the same price as a bus trip. 
The service is also accessible to people who use wheelchairs and three- or four-wheeled scooters. With Flexibus, riders can do things like get to a bus stop, run an errand at a local grocery store or pharmacy, or go to a community recreation centre. Hop on board!
Book your ride in just a few clics with the RTC Flexibus mobile app or the web site.
Great reasons to use Flexibus
How it works
Hours of operation
Flexibus operates daily, with service provided within approximately 30 minutes of booking.
Rates and Transfers
Flexibus costs the same as a bus ride.
Payment methods:
OPUS or Occasional card
Smart card or paper transfer
RTC Nomade paiement app.
Already registered for our services (monthly pass or subscription program)? Flexibus is included.
See the RTC Fare Schedule
Flexibus stops
Flexibus does not offer door-to-door service. It's a public transit service with no fixed times or routes that adapts to customer demand based on departure and arrival points. You can get on and off at regular RTC stops within the service area or at one of the other points suggested when you book your trip (most often the nearest intersection), to minimize walking distance.
Service areas
Flexibus allows you to travel within a single service area or connect to the existing RTC bus network. To see if you are located in a service area, see the regional map.
Accessibility
If you have a specific accessibility need (wheelchair or three- or four-wheeled scooter), check the "Accessibility" option in your profile. Each vehicle can accommodate one person with reduced mobility.
To change your booking, you need to cancel it and make a new one. 
Bookings cancelled 3 or more minutes prior to your scheduled travel time will not be considered missed bookings.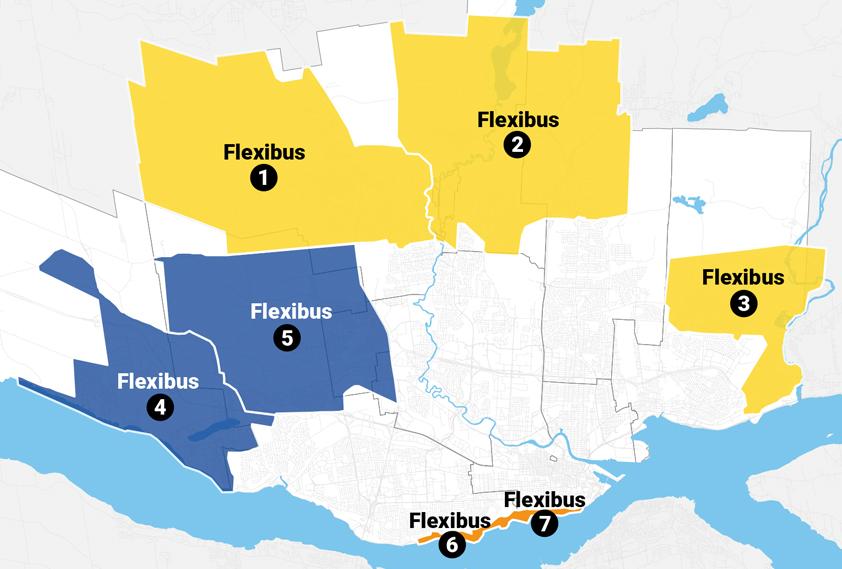 You can only get on and off within a designated Flexibus service area.
You cannot travel from one service area to another.
Aeras in service!
Flexibus 1 : North west of Québec (Val-Bélair et Loretteville)
Everyday from 6 am to 11 pm

Flexibus 2 : North west of Québec (Wendake, Saint-Émile, Lac-Saint-Charles and Notre-Dame-des-Laurentides)
Everyday from 6 am to 11 pm

Flexibus 3 : North and East of Beauport (Sainte-Thérèse-de-Lisieux, Courville et Montmorency)
Everyday from 6 am to 11 pm
Upcoming area :
End of 2023 : Flexibus 4 : Saint-Augustin-de-Desmaures 
End of 2023 : Flexibus 5 : L'Ancienne-Lorette (Champigny et L'Ancienne-Lorette) 
2024 : Flexibus 6 : Anse au Foulon 
2024 : Flexibus 7 : Cap-Diamant
On-board experience
Flexibus is a public transit service. You'll ride with up to 6 other passengers in the same vehicle. As a result, your travel time may vary depending on the number of people getting on and off. Our commitment is that the arrival time indicated on your booking confirmation will not be delayed by more than 10 minutes due to other passengers getting on our off.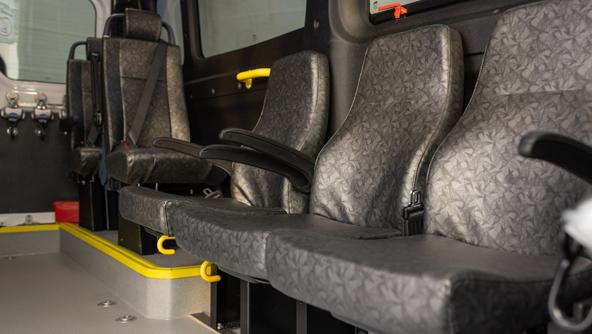 Keep in mind:
Flexibuses do not have wi-fi
You should avoid eating or drinking on board 
Fastening your set belt is mandatory
Children who require a car seat must be seated on the lap of the person accompanying them 
No passengers can travel while standing
Bulky items
As with regular buses, the transport of items that are bulky or that may cause injury to other passengers is prohibited unless they are packaged, transported safely, and kept under the control of the person transporting them at all times. Items being transported must not get in the way of other passengers or the driver or hinder their safety. If these conditions are not met, the driver has the right to deny access.
Frequently Asked Questions
This FAQ section answers your questions about how the Flexibus service works.