The 2023 àVélo season will begin on May 1st. This year, 74 new stations and more than 700 bikes will be available to better meet your needs! Check the stations map to locate new stations.
Promotion - 30 days pass
From May 1 to May 31, get $5 off the 30 days pass.
Use the promo code : moisduvelo2023 
Pricing - 2023 season
Unlimited
30-minute trips

$ 114

— The annual pass is valid for 12 consecutive months. It can be used when the àVélo service is active during this period. (Please note that the àVélo season lasts 6 months. An annual pass purchased on July 15 will be valid until July 15 of the following year.)

30 or more
minutes

$ 0.25 / minute

Purchase Mobile app and website

Payment method Visa or Mastercard credit card only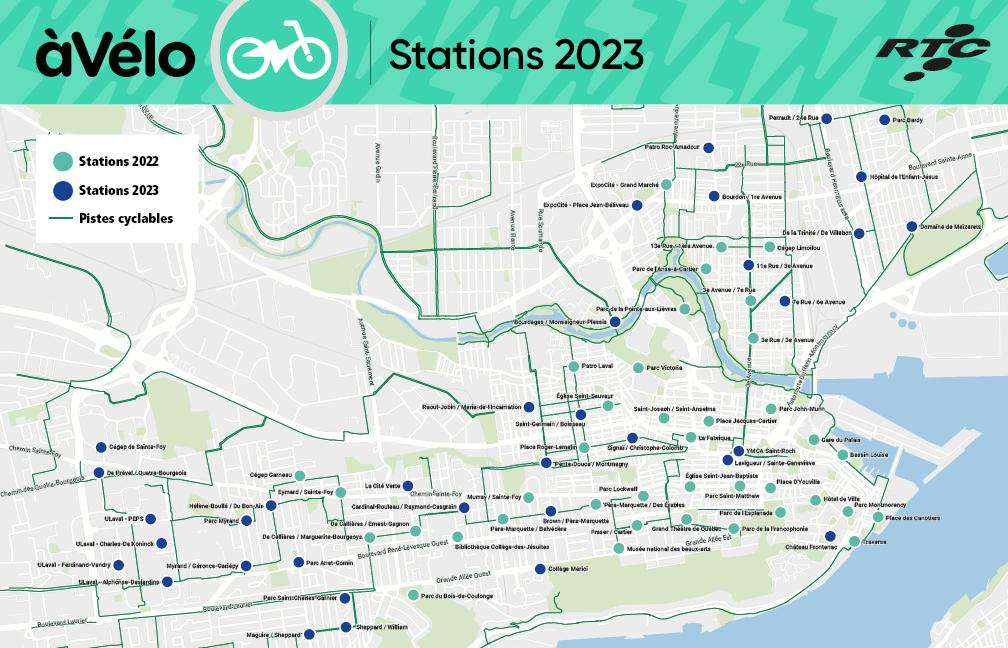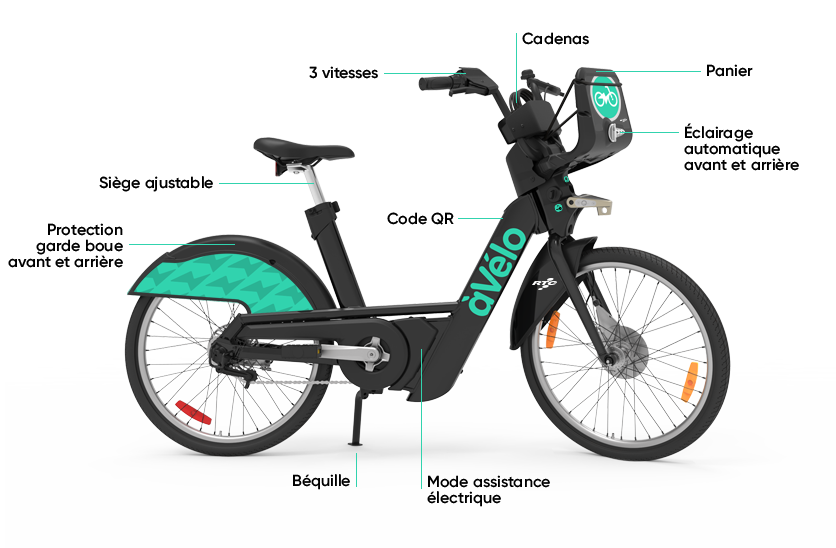 About electric pedal assist
àVélo electric power–assisted bicycles, or pedelecs, have an electric pedal assist mode that pitches in to supplement the pedal power you provide.
The motor tops up your output so you don't have to spend as much energy. That assistance depends on how fast you pedal. If you coast, your pedelec coasts too.
Your speed and battery level are displayed on the screen (the level has to be at least 20% for the bike to be released for rental).
Lock
If you wan to stop during your ride, you can use the lock provided on the bike. There's a label in the front basket explaining how your àVélo lock works.
Pull out the cable at the top of the basket and lock the end into the socket below the handlebars.
Remove the black key on the left and take it with you.
To unlock, gently turn the key in the lock until it releases.
Note:The clock keeps running while you're stopped and you'll pay the same rate as you do when you're riding.
Safety
Wear a helmet
Helmets are required by law when riding a pedelec.
Age requirements
àVélo is for riders age 18 and over with the following exceptions:
Riders age 14 to 17 with a moped licence
Riders age 16 or 17 with a driver's licence
Final checks
Before you start, check the seat, brakes, bell, lights, and tires to make sure everything works and is properly adjusted.
Highway Safety Code
Obey the Highway Safety Code and maintain a safe distance from other vehicles and obstacles. Always indicate your intentions to other road users. Use hand signals when you're going to turn.
Where to ride
It's best to stick to bike paths or the right side of the road. Don't ride on the sidewalk.
Pay attention
Don't ride with earphones. Don't text or use your phone while riding.
Frequently Asked Questions
These FAQs are about how àVélo works.
For more details about àVélo itself, seeTerms of Use